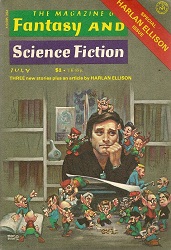 If you are a Harlan Ellison fan and haven't heard him read one of his stories, you really owe it to yourself to find one of them. After hearing "Jeffty is Five" (again), I wonder why more audiobook narrators don't read like he does. Intensely personal and passionate – a listener can't help but to listen. "Jeffty is Five" is contained in the audio collection Voices from the Edge, Vol. 2: Midnight at the Sunken Cathedral, which is available at Audible.
I've also got a copy of the magazine where this story first appeared: the July 1977 issue of The Magazine of Fantasy & Science Fiction is the "Special Harlan Ellison Issue". It was the tenth issue of the magazine to be dedicated to a specific author. Love the Frank Kelly Freas cover. Click it for a larger version.
I love this story. Hits me right here, every time. A quick poke around the internet shows me that some think it's just a pile of nostalgia, but is an Ellison story ever "just" anything? He uses the nostalgia to reveal a much deeper truth. I'm almost 50 years old (oh, the humanity!) and I still struggle with some of the issues he is able to illustrate in this story about Jeffty, who magically remains five years old while his friend Donny, the protagonist, grows up and starts dealing with things we grown-ups need to deal with. Every transition in life, not just the one from childhood to adulthood (which I plan to go through any day now), contains elements that I'd rather not leave behind, even if I desire to move forward. All too often the past and the present do not, CAN NOT, co-exist.
I deeply felt Donny's nostalgic joy, and because of those deep feelings the rest of the story is powerful.
Yeah. Hits me right here. Every time.