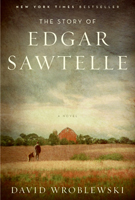 Last year, I wrote a very short review of The Story of Edgar Sawtelle by David Wroblewski. Next Wednesday (May 6), I'll be doing a book review in person at the Oneida County Library in Malad City, Idaho. So I'll be giving the book another read this week.
Here are some links:
edgarsawtelle.com – a website for the book; in addition to the nice shot of Oprah, it's got some discussion questions that I'm looking at and some suggested titles for further reading.
Interview – an interview of the author from NewWest.net
Audio Interview with Diane Rehm – An audio interview with the author from the Diane Rehm show (June 26, 2008), which is where I first heard about the book. Looks like stream only there – if I can find an MP3, I'll add it to my Huffduffer feed.
I couldn't find that interview as an MP3, but I found an interview from the WYPL (TN) Book Talk Podcast. Even though I haven't heard it yet, I huffduff'd it. – That didn't work… – I also found a review of the audiobook from Audiofile Magazine – huffduff'd that, too.