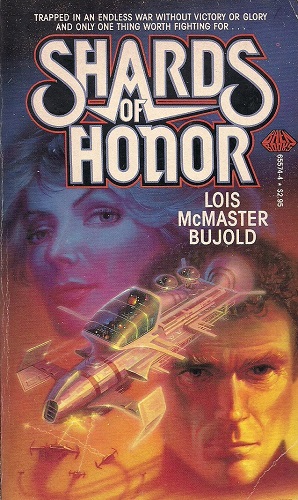 I just finished the first book in the Vorkosigan series: Shards of Honor by Lois McMaster Bujold. I listened to the book a long while ago because my wife and son like the series and talk about it often. I re-read it now because after talking about it, my wife insisted that I missed too much of it to call it "read". Now I know she was right. I liked it just fine the first time, but this time I got much more out of it. I enjoyed it quite a bit.
I knew that I dipped into the series a couple of times during my audio reviewing days over at SFFaudio. I recall listening to The Vor Game and Falling Free, which I particularly liked.
I don't remember any others, but there was one. I was surprised to find a review that I wrote on Diplomatic Immunity. I recall that book coming out, recall being interested because it was a sequel of sorts to Falling Free… but I don't recall reading it AT ALL. How odd that is.
Some people would say "well, maybe it wasn't very good, didn't stick in your mind" or "you're getting older, you forget things". Even though that last bit is certainly true, I've been thinking a lot lately about distraction. I have spent the last several years in a highly frustrated and distracted frame of mind due to situations at work, and there is no question that other parts of my life are affected. That I can't remember reading Diplomatic Immunity is only one sign of many that I have been living a life of tension between what I want to be doing and what I've been doing. It has created a lot of stress that has manifested in a lot of different ways.
I'm happy to say that I took a new job which I think suits me well, and has allowed me all kinds of creative personal space outside of work hours. I've been stretching luxuriously inside that space for several weeks now. I'm writing again, a novel in the works. And I'm reading again. Time will tell if this lasts.
I know I have plenty of days of frustration and distraction ahead of me. But as a way of life, it appears to be behind me.
As for Vorkosigan, I think I'll progress through the whole series over time. I'll do it in publication order, so on deck is The Warrior's Apprentice. But I have other things to read, too.