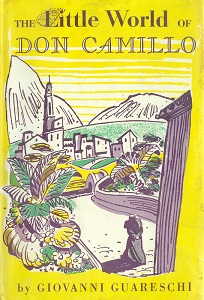 This week, one of my favorite episodes of Good Story posted. Julie and I talked about The Little World of Don Camillo by Giovannino Guareschi.
The book is a collection of very short, very poignant stories about a Catholic priest and mayor, written in and about Italy right after World War II. Fun to read, even more fun to talk about.
Find the episode here: Good Story 152: The Little World of Don Camillo.
Next up over there is a movie Julie picked that is up for an Oscar this year: Hell or High Water. I've seen it and liked it, but will watch again with my Good Story goggles on.
I have the two picks after that. We'll read "Flowers for Algernon" by Daniel Keyes (the novella, not the novel), a story about "what it means to be an intelligent being" said a very smart friend of mine at LTUE this past weekend. Then we'll watch Arrival, which is also up for an Oscar. I'm eager, among other things, to talk about how "Story of Your Life" by Ted Chiang was so successfully brought to screen when I considered it unfilmable.
What do I know, anyway? Answer: NOT MUCH. Not much at all. So happy to be wrong.