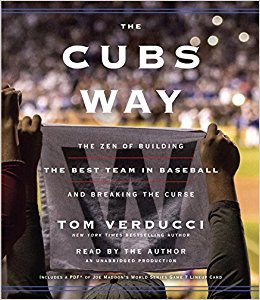 The Cubs Way by Tom Verducci
Read by Tom Verducci
13 hours [UNABRIDGED]
I started following the Cubs a season before wunderkind Kris Bryant took the field (2015), so I am not what you'd call a long suffering fan, but I sure enjoyed the 2016 season. The World Series was best thing to happen in 2016 for certain.
This book is an account of how the Cubs were built. The players, the coaches, the front office – how was the team put together, piece by piece. That was all interesting, but the most valuable thing I got out of the book was a look at the philosophies of Theo Epstein (the Cubs' President of Operations) and Joe Maddon (the Cub's Manager). As I walked the dog listening to Joe Maddon's 13 Core Principles of Management I, as a close follower of the team, could not only see how his philosophy directly impacted the Cubs, but I could also see the application of much of what he said in my own job. The same with much of what Epstein had to say about building a team.
Tom Verducci both wrote and read this book, and he's an excellent narrator. His account of Game 7 near the end of the book had me as glued as I was on November 2, 2016. What a game that was. And what a team this is. Highly recommended, I enjoyed it a great deal.