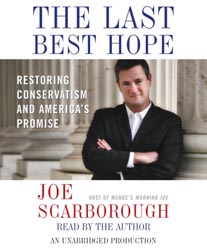 The Last Best Hope: Restoring Conservatism and America's Promise
By Joe Scarborough; Read by Joe Scarborough
Unabridged, Random House Audio
The presidential campaign last year caught my interest in a big way. I know it had that effect on a lot of people, but I had stopped watching news a long time before, frustrated with what I was seeing. News today stinks, there's no getting around it. Two things – first, 90% of what we get on television isn't even news. What we get is a few facts followed by an interview with someone about what those facts might mean. In other words, pure conjecture. Educated (we assume) guessing.
Second, almost every news organization has dropped any effort to be unbiased. I can watch a report on the same story on MSNBC and Fox News and get completely contradictory opinions masquerading as information. Same goes for reading stories in the New York Times and the Wall Street Journal.
Given the above as a description of the available sources of information, I reached a point where I could no longer be sure that I knew anything about our government. I have no idea what's really true, and that's a huge problem for our society. I gave up completely, and I didn't miss it.
When the primaries started, I was captured by what was happening. I decided to pay attention again. I sampled every morning show I could find, and found that Morning Joe was the only one worth watching. Yes, it's an opinion show, but various viewpoints are presented in an informative non-combative way. I came away from that show feeling informed and thoughtful, and think that the show is time well-spent. The "Joe" of the show's title is Joe Scarborough, a former Republican Congressman from Florida. He's my kind of guy, and not just because he's a Liverpool fan. In his book The Last Best Hope, Scarborough lines out what he feels the Republican party is going to need to do to get back in power.
But that alone is problematic, isn't it? Saving the Republicans, I mean? The two party system completely stinks. Why should a person care that "Republicans" regain power? Scarborough makes a point when discussing the actions of the Republican-led Congress while President George W. Bush was in office. They did not act as conservatives, Joe says, they acted as Republicans. They sacrificed their supposed deeply held beliefs in order to do what someone convinced them was of benefit to the party. We all know how that turned out. Scarborough's previous book Rome Wasn't Burnt in a Day, which was released during the Bush years, warned of pretty much exactly what happened. I'm personally all for the conservative cause (especially fiscal conservativism), and that's what Scarborough discusses. Stick to your philosophy, he says. For a conservative, that means above all else to practice fiscal responsibility, something we haven't seen in this country for decades. But it's conservatism that we need more of, not Republicanism.
He then goes further, describing positions on hot issues of the day that conservatives should be promoting. How can conservatives continue to be FOR freedom in the marketplace while being AGAINST certain social freedoms? Leave more of that to the states – seems a great solution to me.
Why are conservatives against conservation? We are not talking about embracing the environmental movement here, but why be perceived as being anti-environment in an age where that is such an important issue? Conservatives should conserve, says Joe.
The chapter headings say quite a bit about what Scarborough has to say:
Chapter 1: Increasing Military Power through Restraint
Chapter 2: The Great American Bailout
Chapter 3: From Mean to Green
Chapter 4: We Are All Socialists Now
Chapter 5: Social Conservatism in the 21st Century
Chapter 6: Money Can't Buy Me Love
Chapter 7: Death by Entitlement
Chapter 8: What Republicanism Hath Wrought
Chapter 9: The Gipper's Greatest Lesson
It turns out that I enjoy Scarborough in print (or on audio) as much as I enjoy his show in the mornings. I didn't agree with him 100%, but I appreciated what he's got here. I'm still convinced that fiscal conservatism is really the change we're all looking for, and it was refreshing to hear Scarborough's roadmap.