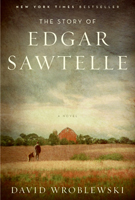 I really enjoyed The Story of Edgar Sawtelle. And I say this as a cat person. If you like dogs, this is a story you'll love – however, the story really transcends all that, because it's not about the dogs.
Edgar Sawtelle is a mute teenager (he's a teen for most of the novel) that was born into a family that raises dogs for living. Things happen, of course, in this incredibly detailed world of Edgar's – things reminiscent of Shakespeare's Hamlet. I felt a great deal more than I normally feel while reading novels, which is probably why I like it so much. I'm writing this weeks after reading it, and it is still a part of me, returning to my thoughts at the most interesting times.
It's thoroughly engaging and thoroughly enjoyable. A powerful piece of storytelling.