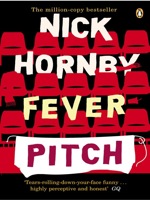 I learned a couple of important things from Nick Hornby's Fever Pitch. First, I'm a lightweight when it comes to sports fanaticism. And second, I need to suffer a lot more before I'm allowed to complain about Liverpool.
The first NFL game I remember watching was a Super Bowl over at the Waters' place. My whole family joined their whole family and while we kids messed around all over the house, the adults watched the game. I recall two things about that day: the Steelers won the game, but I left there a Cowboys fan. Since that day, the NFL became the Cowboys and a bunch of teams the Cowboys play. I still can't imagine being a fan of any other NFL team. It's Cowboys or nothing.
How does that kind of attachment occur? How does one get so tied up with a team that the fortunes of that team actually affect the quality of one's day? Hornby has a lot to say about that as he tells the story of his life through his infatuation with Arsenal, a football (soccer) team from London with one of the greatest names ever given a team. We experience the highs and lows of his life along with the highs and lows Arsenal, and he shows us how the two are connected. He's achingly honest. There were several moments where I sat open-mouthed at something he did as an Arsenal fan, to only realize after a few moments that yeah – I could see myself doing something similar. If I had lived anywhere near the Cowboys, I'm sure Hornby and I would have even more in common.
But still – I'm a lightweight, even though how the Cowboys were faring at various times in my life is perfectly clear in my memory, and as much a part of my life as the people I actually interacted with. Like that time in 1985 that I bet Bob Southon that my struggling Cowboys would beat his mighty Bears, and how he laughed and gave me 14 points (which made me laugh, but I took them), and how I came in to school Monday morning knowing that I was going to get humiliated because the Cowboys got thumped 44-0. Yeah, rough. But that's what happens. Fans of a team often act irrationally. When you think about it, every fan but those of a single team end every season in disappointment. Yet every year, we set ourselves up again.
Over the last three years my sport interest has shifted entirely from American football to the-rest-of-the-world football. Lots of reasons why. I watched random Premier League games until one day I watched Liverpool FC. Gerrard and Torres – it was love at first sight. Can't be explained, but that day, things changed. I went from a casual viewer to a fan, and that meant that I would allow Liverpool to affect my mood. This last season, my third (or my second full) season of following them, the wheels came off. Hornby makes it clear several times in the book that I have no right to complain along with Liverpool's lifelong fans. I simply haven't suffered enough yet. I have no context, I don't know where they've been. I didn't live through their history, and therefore won't be happy enough when they win, nor sad enough when they lose.
I understand his logic, believe it or not. Doesn't make me feel any better, but I know that I haven't reached his level of fanaticism. I think I'm better off if I don't get there.