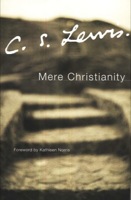 I've finally got time to delve into this book in a more contemplative way. I didn't expect to comment on the Preface, but Lewis talked a bit about the word "Christianity" and I want to, too.
Lewis brings the word up in the Preface because he's answering an unnamed critic who said, "Who are you to lay down who is and is not a Christian?" or "May not many a man who cannot believe these doctrines be far more truly a Christian, far closer to the spirit of Christ, than some who do?"
He explains that he uses the word "Christian" in this book to mean "one who accepts the common doctrines of Christianity", and not as some moral judgment or some kind of title. What's interesting is that he then goes on to defend the word against a change in meaning, because, he says, using the word in any other way is not useful. Like the word "gentleman" – it used to mean something concrete; a status. Then someone came along and said that a gentleman should have certain qualities, and the word eventually came to mean a person who has good qualities. Lewis believes that if the word "Christian" should ever move that way, the word will become useless.
Now if once we allow people to start spiritualising and refining, or as they might say "deepening", the sense of the word Christian, it too will speedily become a useless word. … It is not for us to say who, in the deepest sense, is or is not close to the spirit of Christ.
This popped out at me because, living in an LDS community like I do, the word "Christian" is extremely important and has come up often in conversation. Even before Mitt Romney ran for President, Mormons that I know were bothered by those who said that they were not Christians. According to Lewis' definition of the word, Mormons are not Christians. But the word, at least around here, has taken on a different meaning, but not the meaning that Lewis was concerned about. "Christian" around here means "one whose religion is Christ-centered", for the Mormons are not using it to exclusively claim it for themselves, but to be considered part of the community of Christian religions.
An additional note for those interested – one of the keys to understanding Mormonism is knowing that nearly every religious word you know has a different meaning for them than the common Christian meaning, including the word "God".
Another thought I had was of gay marriage. The word "marriage" in the dictionary says: "the social institution under which a man and woman establish their decision to live as husband and wife by legal commitments, religious ceremonies, etc." That's the first definition. The second says: "a similar institution involving partners of the same gender: gay marriage." It doesn't change the definition of the word "marriage", but adds a qualifier to the word. I first wonder how long ago that was added to the dictionary, and then I wonder if the struggle to approve gay marriage would have been a whole lot less traumatic if the word "marriage" was left out of the argument.
Interesting how language changes.