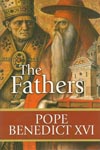 The Fathers by Pope Benedict XVI
Publisher: Our Sunday Visitor
Published: 2008
The material in this book, says the first footnote, is taken from Pope Benedict XVI's general audiences from March 7, 2007 through February 27, 2008. There are 26 short chapters, each a talk given at one of those audiences, and each about an early Church Father, many of whom I was not familiar with before reading this book. The chapters give a great introduction to each person, and through a look at the work of that person, different aspects of the Church are examined.
There are many different ways to be taken by this book. Most of the earliest Fathers were executed for their beliefs, so one can look at this as a testament to their faith. These are the people who shaped the church structure, so one can look at these chapters as an early history of the Church hierarchy. These are also the people who dug meaning from Tradition and scripture, so one can look at this as a brief introduction to the philosophy of Christianity.
Regardless of your personal interest, I trust you'd find these people inspiring. There's St. Justin, Philosopher and Martyr, who was born around 100AD, and, after a long philosophical journey akin to the one so many of us take, arrived at the Christian faith. For this he was beheaded in 165.
There's Tertullian, who started publishing works in 197, but was "too individualistic" to remain in communion with the Church. "The originality of his thought, however," says Pope Benedict XVI, "together with an incisive efficacy of language, assured him a high position in ancient Christian literature."
Starting with the ninth chapter, whose subject is Eusebius of Caesarea, we come to early church fathers that experienced Christianity in a different light than those who came before. Eusebius was a contemporary of Constantine and the Council of Nicaea, and he "strongly challenges believers of all times on their approach to the events of history and of the Church in particular".
The final chapter covers St. Augustine of Hippo, the one who gave us his Confessions. What a rich history Christianity has – this book serves as a perfect introduction.
It's especially interesting for me to be looking at this book, because it solidifies several things that are challenged by the LDS church, which is the most common religion where I live. It is central to their faith that the church "fell away" after the Apostle John died, and therefore it needed to be "restored", which was done, according to them, in 1800's United States when Joseph Smith was visited by angels.
Yet, the Catholic doctrine of Apostolic Succession is clear. The faith was clearly handed down from the apostles to others. As St. Clement, the subject of the first chapter of this book, says in his Letter to the Corinthians:
Our apostles also knew, through our Lord Jesus Christ, that there would be strife on account of the office of the episcopate. For this reason, therefore, inasmuch as they had obtained a perfect fore-knowledge of this, they appointed those [ministers] already mentioned, and afterwards gave instructions, that when these should fall asleep, other approved men should succeed them in their ministry." — St. Clement, Letter to the Corinthians, Chapter 44
Pope Benedict XVI, in fact, makes a point in the chapter on St. Clement to say that Clement "clearly explains the doctrine of Apostolic Succession". So, if more evidence than Luke give us in Acts of the Apostles is needed, there it is.
———————-
This review was written as part of the Catholic book Reviewer program from The Catholic Company. Visit The Catholic Company to find more information on The Fathers.