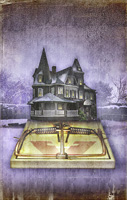 Last weekend, I had an interesting experience. First, a quick bit of history: I have been involved with the local theater group ever since I moved here. I started with lights and sound, being a tech type, and eventually (after 6 years or so) tried out for a small part and was in a play myself. Over the last 6 years, I've acted in several plays and have directed 3.
One of the plays I directed was Agatha Christie's The Mousetrap. We performed it over Mother's Day weekend this year. I also ended up being in it (I played Paravicini) because were short a cast member.
OK, so that's the history. This weekend, several of the cast members and I went to see the same play put on by the Heritage Theater in Brigham City, Utah. We had a wonderful time! It was definitely odd seeing another cast perform the same lines; for me, it was both validating and a learning experience. I felt validated because some of the directorial decisions I made were similar to the ones made there, and where we were different, I still felt good about what we had done in our production. The learning came from watching a trained cast perform a script that I knew so well. There were surprising moments for me that came from the actors; little things they did that made their characters seem more natural, from a differently delivered line to their reactions to other characters. Live theater is the actor's medium.
The Heritage Theatre's production of The Mousetrap is really excellent – they are performing it Mondays, Fridays, and Saturdays through November 8, so if you are anywhere near Brigham City, Utah, I urge you to go see it.
That illustration is by Cary Henrie and I found it the Pioneer Theatre Company's website, which is in Salt Lake City.
Lastly, I'd like to put in a plug for YOUR local theater group. If you are interested in being involved with the theater at any level, they probably need your help. If not, then do consider attending a show. I bet you'll be surprised by the quality! In a good way, I mean.