I recently directed Little Women for the Iron Door Playhouse. The run ended on May 13, and the reviews were great. Like most of the community theater plays I've been involved with over the years, we enjoyed doing it. The cast was dedicated and fun, and we were all proud of the end result. My ten year-old daughter played Amy and I'm thrilled to say that she had a wonderful time. A positive experience all around.
A note about the play: We used this script by Kristin Laurence from Dramatic Publishing. There are nine actors, all female, and one interior set. The men in the story are referred to, but never seen. I don't know if your community theater is like ours, but when we hold an audition, we get 7 or 8 women for every man. This is a great choice if that's your situation.
The script is full length. Our shows came in at around two hours with a ten minute intermission. Instead of attempting the entire novel during that time, the author chose to create the script out of part of the book. The story was very satisfying and the audience very positive. Lots of funny moments kept it moving just fine. Recommended!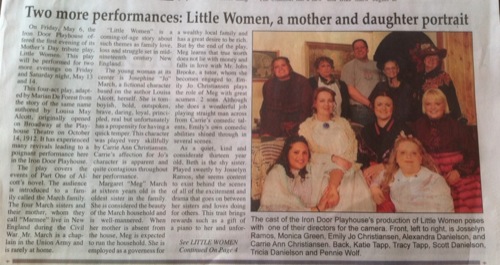 From
The Idaho Enterprise