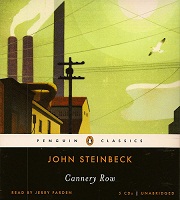 Penguin Audio has issued an entire line of John Steinbeck audiobooks. Some (perhaps all) of these are re-issues:
East of Eden, narrated by Richard Poe
The Grapes of Wrath, narrated by Dylan Baker
Cannery Row, narrated by Jerry Farden
The Pearl, narrated by Hector Elizondo
The Moon is Down, narrated by George Guidall
In Dubious Battle, narrated by Tom Stechschulte
Sweet Thursday, narrated by Jerry Farden
Tortilla Flat, narrated by John McDonough
Of Mice and Men, narrated by Gary Sinise
The Red Pony, narrated by Frank Muller
Travels with Charley in Search of America, narrated by Gary Sinise
I'm about 1/3 of the way through a re-read of East of Eden for the next episode of the Good Story podcast. I'm listening to a bit of it, but since I have a deadline here, I'm reading most of it in print, which is much faster going. Richard Poe is doing a fantastic job with it, though.
I have good memories of listening to Dylan Baker's narration of The Grapes of Wrath while moving water lines on a farm one summer 4 or 5 years ago. I've also heard Gary Sinise read Of Mice and Men, and Hector Elizondo's superior narration of The Pearl. I'm looking forward to hearing these others.