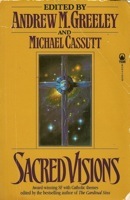 Here's an anthology that I was thrilled to find. Sacred Visions is the title, and along the bottom of the front cover it says: Award winning SF with Catholic themes. Andrew Greeley and Michael Cassutt are the editors, and the book was published in 1991. The copy I've got is trade paper from Tor.
The stories:
A Case of Conscience by James Blish (novella, 1953)
Trinity by Nancy Kress (novella, 1984)
Saint Theresa of the Aliens by James Patrick Kelly (novelette, 1984)
The Pope of the Chimps by Robert Silverberg (novelette, 1982)
Curious Elation by Michael Cassutt (short story, 1990)
The Quest for Saint Aquin by Anthony Boucher (novelette, 1951)
A Canticle for Leibowitz by Walter M. Miller, Jr. (novelette, 1955)
Gus by Jack McDevitt (novelette, 1991)
Our Lady of the Endless Sky by Jeff Duntemann (short story, 1974)
The Seraph From Its Sepulcher by Gene Wolfe (short story, 1991)
Xorinda the Witch by Andrew M. Greeley (novelette, 1987)
And Walk Now Gently Through the Fire by R. A. Lafferty (novelette, 1972)
Great lineup!
Two famous Catholic-themed science fiction stories are included here in their original published novella lengths: "A Case of Conscience" by Blish and "A Canticle for Leibowitz" by Walter M. Miller, Jr. I recall reading the original short "Flowers for Algernon" by Daniel Keyes and liking it even more than I liked the novel-length version. I'm curious to find out if the same is true here. Sometimes short is better.