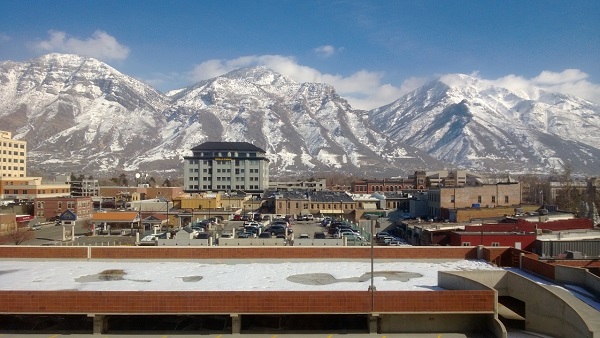 We (my daughter and I) had a wonderful time at LTUE 31. The above picture was the view from our hotel room.
I went to a lot of panels, met a lot of great people, and I brought home a few books!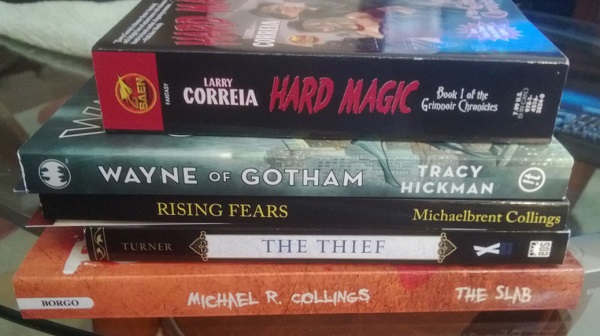 Top to bottom – Hard Magic by Larry Correia. This is Book 1 of a series he's got going called The Grimnoir Chronicles. The bookseller in the dealer's room didn't have Monster Hunter International, which will probably be the first one of his I read. From hearing him talk about his stuff, I expect no nonsense characters, and guns with more guns. I'd like to read something by him before May, as he's the Guest of Honor at this year's CONduit. Most years I get to CONduit.
Then there's Wayne of Gotham by Tracy Hickman. I don't know much about this book, other than it's Batman, I love the cover, and I really like Tracy Hickman. He's most famous for his Dragonlance titles… I've read just one.
Rising Fears by Michaelbrent Collings is a horror novel, and so is The Slab, which was written by Michael Collings, his father. I've met those two a few times at these local cons, and figured it was about time I read something of theirs.
And last is The Thief, a YA novel written by this year's Guest of Honor, Megan Whalen Turner. It won a Newbery Award, like Gaiman's The Graveyard Book. Desccription: "Because of his bragging — and his great skill at thievery — Gen lands in the King's Prison, shackled to the wall of his cell. After months of isolation, kept sane only by his sharp intelligence, Gen is released by none other than the King's Scholar, the Magus, who believes he knows the site of an ancient treasure." Turner gave an interesting keynote address about letting kids select their own reading material.
Not pictured here is the 7th Schlock Mercenary book: Emperor Pius Dei. Comic space opera – love it!
I also bought the eBook version of a collection called Space Eldritch, edited by Nathan Shumate at Cold Fusion Media. The description: "a volume of seven original novelettes and novellas of Lovecraftian pulp space opera." Yeah, baby. Most of the authors in the collection were at LTUE. Here's the table of contents:
Foreword – Larry Correia
"Arise Thou Niarlat From Thy Rest" – D.J. Butler
"Space Opera" – Michael R. Collings
"The Menace Under Mars" – Nathan Shumate
"Gods in Darkness" – David J. West
"The Shadows of Titan" – Carter Reid and Brad R. Torgersen
"The Fury in the Void" – Robert J Defendi
"Flight of the Runewright" – Howard Tayler
So, yeah, I'll be reading that.