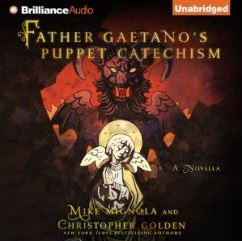 I just posted a review of Father Gaetano's Puppet Catechism by Mike Mignola and Christopher Golden over at SFFaudio. A good, not great, novella.
Today the finalists for the Audie Awards were announced, and I didn't recognize a title in the Audio Drama category: Swordspoint by Ellen Kushner. I looked into it and found that Swordspoint audiobook is a "Neil Gaiman Presents" title over on Audible. The main narrator is Ellen Kushner (a very good narrator, judging from the first few minutes), and she's backed by a full cast. What this means exactly, I'll let you know, but Gaiman's introduction says that there are scenes in the audiobook that are full out audio drama. A new thing! I'll try this out as soon as I can. First, I need to read Footfall by Niven and Pournelle.
A few years ago, I read Jerusalem by Simon Sebag Montefiore and I discovered a method to read books that maximizes both my comprehension and speed (and thus my enjoyment). It's a both-and method; both audiobook and print. I need both editions to get through a book this way. When I have the print book in hand (usually a Kindle version), I put in my earbuds and play the audiobook at high speed. On the iPhone Audible app I used to have, I'd play it at 2X or 3X. I read the text along with the audio, I highlight passages as desired, and I never pause the audiobook. When I tire of reading or need to go do a chore or something, I slow the audiobook to normal speed (or sometimes 1.5X, depending on the narrator) and keep listening.
Sometimes when listening to an audiobook, I have trouble engaging with the story. If I'm not engaged, my mind wanders and I miss large parts of the story. Happens to me all the time. I've found that this method solves that problem. Reading the text along with the audio puts me in the story in a deep way so that, even during the parts where I don't have the print in front of me, I have no trouble paying attention. Even to challenging books.
I used this method to read Jane Eyre, East of Eden, Bleak House, Declare, The Stand. and some history books. It works EXTREMELY well for me. I come out with great comprehension, and in good time.
I haven't tried to use Amazon/Kindle/Audible's service that helps sync this kind of reading, probably because I don't ever have to find my place in the audio. Finding my place in the text is already simple, especially if I'm reading an ebook. The cheaper eBook price at Amazon I get when I own the audio is greatly appreciated, though!
Off to start Footfall.